Clear Rolling papers are made from a specialized form of cellulose film which is also known as Cellophane. When you think of Cellophane you probably think of plastic wrap, however natural Cellophane is not made from plastic. Instead it is made from chemically modified natural Cellulose, predominantly from trees or cotton. Clear papers from Brazil are made from wood pulp but some of the specialty clear papers such as Trip2 are made from Asiatic Cotton Mallow®.
Clear Rolling papers have an interesting history. They were first launched in the early 1980's, sold very well and then disappeared. Then in 2006 we worked with some Brazilian companies to re-launch clear rolling papers into the marketplace. At first these papers sold incredibly well. However some brands went too far in their marketing and falsely marketed their clear papers as being more natural & healthy than normal white papers. At first smokers believed them, however when consumers found out the truth there was a severe backlash and clear papers sales dropped quite a bit, perhaps 75% or more. However there has been a steady turnaround and in 2015 we expect clear paper sales to remain constant and steady. While they won't sell at the same fad-rate of early 2007, they have proven to continue to sell at a steady pace.
After all, burning a clear smoke does look cool!
GLASS CELLULOSE PAPERS KING SIZE
August 17, 2016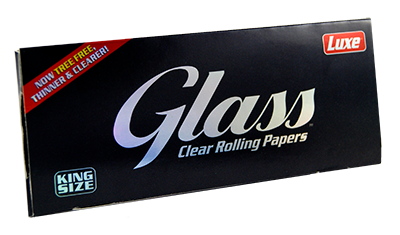 GLASS CELLULOSE PAPERS 1¼
August 17, 2016